Candid Camera Photo of the Day #10
Sorry no pic yesterday. We were in Charlotte at the 10th Annual For Sisters' Only Convention, didn't get back til after midnight and didn't think to post the pic late on Friday night.
Here's another fashion flashback. Virginia in Essence Magazine--can't really describe the outfit--except to say it was the '80's people!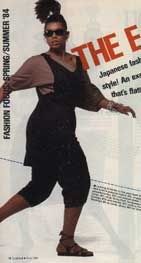 Labels: Essence Magazine, FASHION
posted by DeBerry and Grant at 11:36 AM